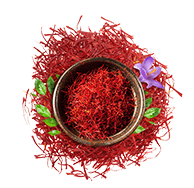 Saffron, considered to be one of the most expensive ingredients, has long been used as an herbal
ingredient to preserve the beauty of women and to enhance their radiant beauty.
Saffron is popular as a nutrient needed to enhance the beauty of the skin and hair as well as a herbal
ingredient that has many health benefits.
Saffron is mentioned in Ayurvedic books as an effective remedy for skin diseases such as burns,
discolouration, infections such as eczema and itching caused by intense sunlight.
Saffron is an Ayurvedic medicine that helps to brighten the skin, repair tissues, and help detoxify the
body.
Saffron has been around for centuries as a major spice and fragrant ingredient. Saffron is considered to
be the most expensive ingredient in the world by weight.
Be it today or the ancient days, saffron has been used for various purposes in food and beverage
preparations, and in the making of Ayurvedic medicines.
Saffron has been used as a medicinal plant in ancient Ayurvedic books. In medieval Europe, saffron was
used to treat respiratory ailments, coughs, and fevers, as well as to treat insomnia, heart disease, and
gout.
In ancient times, Princesses used saffron to enhance their appearance and to brighten their skin.
Saffron as a drink as well as an ointment has the ability to add a radiant beauty to the body and skin.
It is a common belief that drinking 4-5 strands of saffron by adding it into a cup of warm milk or water as
a beverage can show a radiant and beautiful change in the skin in about a month.
Ayurvedic books state that saffron can be used as a face cream by adding saffron powder to a cup of
yogurt and applying it to attain best results. This topical treatment gives the skin a radiant beauty as well
as the ability to reduce the melancholy nature of the skin.
But as saffron is an expensive ingredient, you can try Lever ayush Saffron products to enhance your
glowing skin.