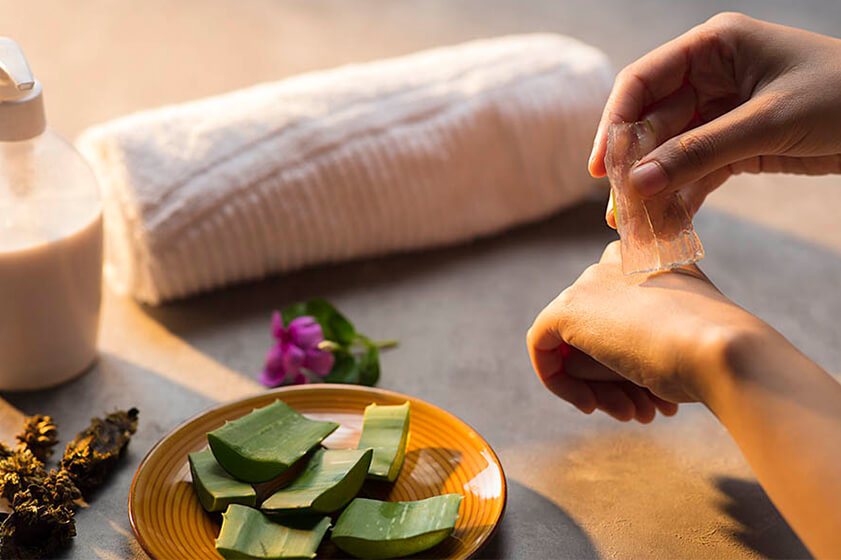 Almost all those from tropical countries such as Sri Lanka may recognize the exotic plant named Aloe Vera. What several people may not know is the myriad of health benefits of Aloe Vera.
Aloe vera is a remedy for sunburns
The heat of the sun is something we all enjoy during the summertime. Unwinding on the beach, sipping on a cold beverage is a favorite activity among the majority of people. The adverse outcome of enjoying the time under the sun is the possibility of having sunburns. Hence, one of the most famous health benefits of Aloe Vera, its remedial power for sunburns, comes as a relief.
A natural moisturizer for the skin
Aloe Vera contains 95% water. As a result, Aloe Vera, when applied to the skin and washed, leaves the skin beautifully hydrated. Another health benefit of Aloe Vera results from the moisture it holds, which binds the two top layers of the skin, creating softer skin.
Aloe Vera acts against acne
Aloe Vera is great as a remedy for acne. The antibacterial properties of Aloe Vera assist the skin, keeping away the bacteria from clogging the pores. In the interim, the anti-inflammatory properties of Aloe Vera relieve the annoyance of marks and spots.
Aloe Vera reduces skin irritations
The best of Aloe Vera is in its capability to cool the skin. The freshness that Aloe Vera provides to the skin assists in eliminating upsetting skin issues such as rashes, itchiness, and irritations.
Despite the health benefits of Aloe Vera, It is best to experiment with Aloe Vera on a covered area to see if you may be allergic before you apply it over the entire skin. This is especially important if you are applying directly, without diluting, onto the skin.
There are also other aloe vera products that you can purchase, such as aloe vera face washes in Sri Lanka. Several such products are made with natural ingredients such as Ayush Aloe Vera face wash and will provide similar health benefits. It is vital to ensure that the products you are considering are mostly natural, as chemical-based ones may reduce the health benefits.